The Walters Family entered the prestigious Great Taste Awards for the first time in 2014 with our signature Free Range Bronze Whole Turkey and won a coveted gold star. Since then we have been awarded a gold star several times. For 2019 we received a one star for our free range bronze crown and for 2021 we were thrilled to be awarded 2 stars for our whole turkey.
We are very passionate about our turkeys and know they are exceptionally good, to have such great feedback from rigorous testing is fantastic.
We pride ourselves on the care and attention given to the welfare of our turkeys ensuring they are reared in a happy and stress free environment. Annual inspections from the Environmental Health Officer (EHO), the Traditional FarmFresh Turkey Association (TFTA) together with rigorous annual SALSA and Soil Association audits guarantee stringent welfare production methods.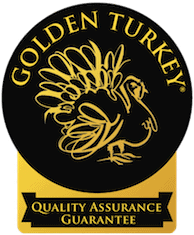 Walters Turkeys are long standing members of the Traditional Farm Fresh Turkey Association (TFTA). This ensures our Free Range turkeys are of the highest quality, finish, flavour and texture and they are produced using traditional methods in high welfare conditions. Within the UK the Traditional Farmfresh Turkey was the first product from the EU to gain recognition with a designation for 'Traditional Speciality Guaranteed' . This protects registered products against imitation throughout the EU, and enables them to carry an EU symbol to help consumers recognise their traditional, authentic nature. For more information visit www.totallytraditionalturkeys.com.

Proudly we are a SALSA (Safe and Local Supplier Approval) certified supplier, a widely recognised food certification which demonstrates our turkeys are produced in a safe and legal manner. Do visit www.salsafood.co.uk for more information.