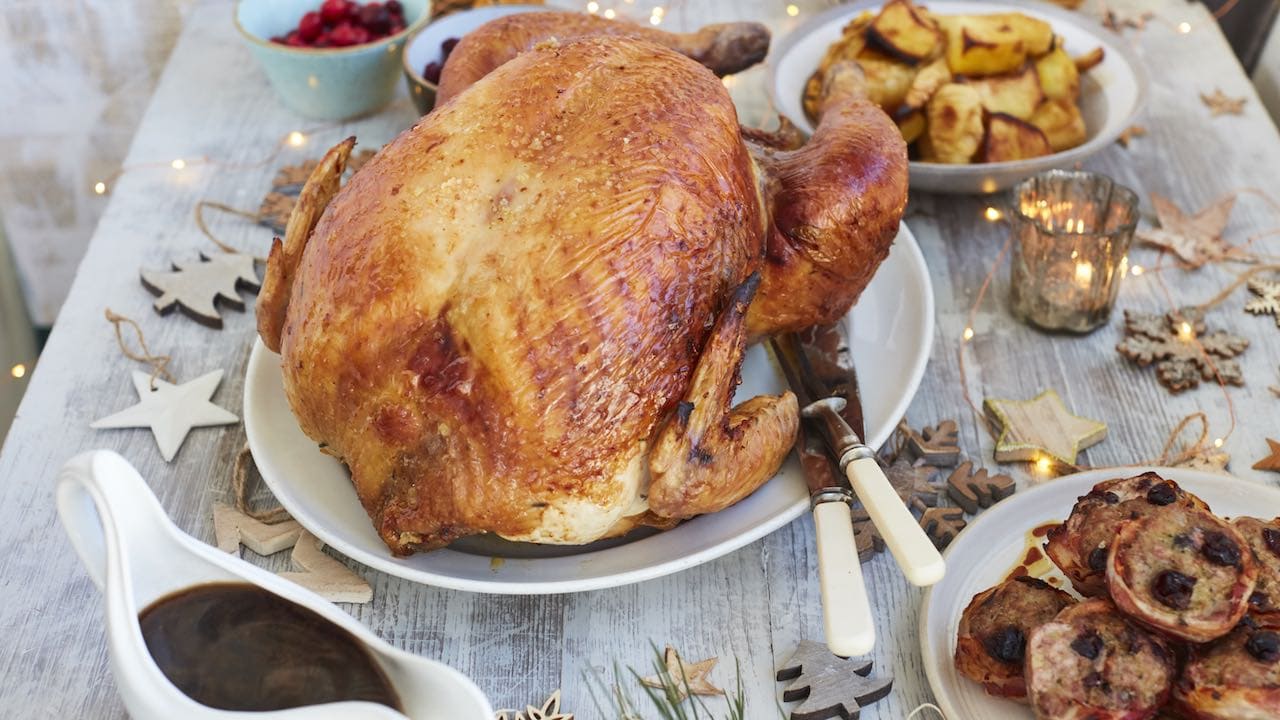 Ingredients
5kg Golden Turkey

2 tbsp rapeseed oil

Sea salt and black pepper

2 clementine, halved

A few sprigs fresh rosemary

3 onions, peeled and roughly chopped

2 sticks celery, roughly chopped

2 carrots, roughly chopped
Crispy Pancetta Muffins
50g unsalted butter

1 onion, peeled and very finely chopped

150ml Madeira wine

A handful dried cranberries, soaked and roughly chopped

150g sausage meat

150g pork mince

Sea salt and black pepper

75g good quality sourdough or country bread, whizzed to coarse crumbs

1 tbsp fresh rosemary, chopped, plus extra small sprigs to garnish

Vegetable oil

8 slices pancetta

8 fresh cranberries, to garnish
Methodology
Take your turkey out of the fridge 2 hours before you're ready to cook it, so it comes up to room temperature before roasting.

Preheat your oven to 180°C/Fan 160°C/Gas Mark 4/Aga hot oven.

Place the turkey, breast side down and drizzle the meat with the rapeseed oil, and season with sea salt and black pepper. Place the clementine halves, one of the onions and the rosemary sprigs into the turkey cavity.

Place the roughly chopped vegetables in the bottom of a roasting pan and lay your prepared turkey on top. Pour over 400ml cold water, then put it in the hot oven. Cook for about 30 minutes per kg. The 5kg bird in this recipe will take about 2 to 2.5 hours to cook. Half way through cooking, take the bird out of the oven and turn the bird over so it's breast side up and season this side. The best way to tell if the bird is cooked is to use a meat thermometer in the thigh. It is cooked when it has reached 65°C.

If you don't have a meat thermometer then pierce the thickest part of the thigh with a skewer and make sure the juices run clear.

Rest the turkey for at least 1 hour, preferably 2 hours for bigger birds. Whilst your turkey is resting, you can cook your stuffing muffins and make the gravy.
Tip – Don't throw away the vegetables used in the pan with the turkey. Save them to make soup the following day.
Crispy Pancetta Muffins with Cranberry, Sausage and Rosemary Stuffing
Preheat the oven to 180°C/Fan 160°C/Gas Mark 4.

Melt the butter in a large frying pan and add the onion. Fry gently for 5-10 minutes until softened, then turn the heat up, add the Madeira and bubble until syrupy. Transfer to a large bowl and leave to cool.

Once the mixture has cooled, add the cranberries, sausage meat and pork mince. Mix and season with a little salt, then mix in the breadcrumbs, rosemary and season with black pepper.

Lightly oil the insides of 8 hollows in a muffin tin with vegetable oil. Take the pancetta slices and use to line the muffin tin hollows. Be careful not to leave any gaps in the pancetta lining. Fill the cups with the stuffing mixture, top with a sprig of rosemary and a fresh cranberry and brush with oil. 

Cook for 10-15 minutes and serve with the roast turkey.
Nutritional Information
Per serving (based on 12)
2401kJ/571kcal

23.5g fat

7.2g saturates

0g carbohydrate

0g sugars

0g fibre

90g protein

0.8g salt
Muffins per serving (based on 8)
990kJ/237kcal

13.7g fat

6.4g saturates

14.8g carbohydrate

7.9g sugars

1.4g fibre

8.6g protein

0.8g salt