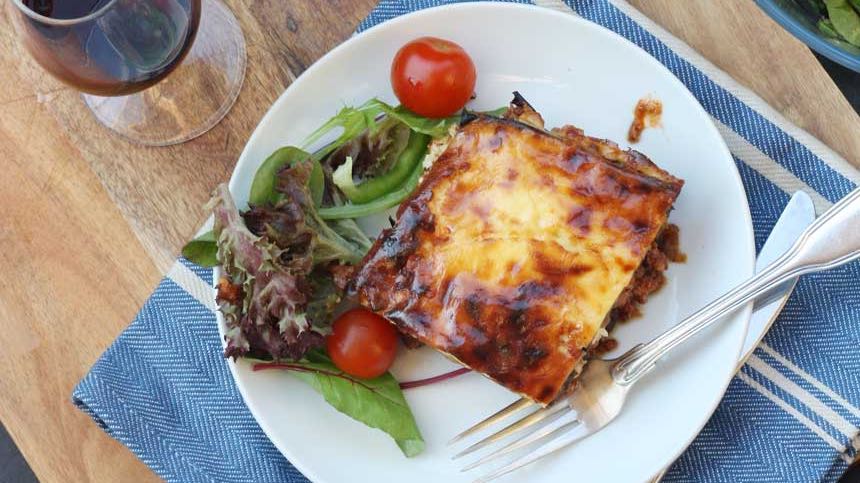 Ingredients
2 large eggplant/aubergines cut into even 1/2 cm-thick slices
olive oil
1 onion finely chopped
4 garlic cloves crushed or chopped
2 teaspoons cinnamon
1 1/2 teaspoons dried oregano
500g minced chicken or turkey
2 tablespoons tomato puree mixed with 1 cup water
340ml red or white wine
salt and pepper
bunch of fresh parsley chopped
For the yoghurt 'béchamel' topping
1 tablespoon cornflour
280g Greek yoghurt 2% fat
2 eggs lightly whisked
50g parmesan cheese grated
a generous pinch of ground nutmeg
Homemade BBQ Sauce
425g  Tomato ketchup
425g  Molasses
85g   Apple sauce
1 tbsp worcestershire sauce
2 tsp paprika
2 tsp dried mustard
1 tsp onion powder
1 tsp garlic powder
1/4 tsp cayenne pepper
1/2 tsp black pepper
1/2 tsp salt
1/4 cup water
Methodology
Pre-heat the oven to 180C. Lay the eggplant/aubergine slices on large baking trays and brush each side with a little olive oil. Bake for about 25 minutes or until the slices are soft and floppy.
Meanwhile, start making your turkey ragu sauce. Start by softening your onion for a few minutes in a little olive oil, then add the garlic, cinnamon & oregano and cook and stir for a couple more minutes.
Add the turkey to the pan and brown while breaking up with a wooden spoon. Then add the tomato puree & water and wine. Let the sauce simmer gently until it has thickened (about 20 to 30 minutes). At the last minute, add in the parsley and salt and pepper to taste.
To make the topping, place the cornflour in a medium bowl and slowly mix in the yoghurt until the mixture is smooth and there are no lumps. Then mix in the eggs well and add the nutmeg.
Now you're ready to assemble your moussaka! (I used an 11 by 7 inch baking dish, but slightly larger would probably be ideal)
Start with a layer of eggplant/aubergine slices, followed by half of the ragu sauce, another layer of eggplant/aubergine, another layer of meat and a final layer of eggplant/aubergine. Finally, pour the yoghurt topping over the top and smooth it out.
Bake for forty to forty-five minutes or until the topping is golden and bubbling (cover it with aluminium foil if it gets too dark).
Leave the moussaka to rest for half an hour before serving (so that the pieces stay together better when you cut and serve them).
Recipe Notes
For a more authentic flavour, use Greek kefalotiri cheese in the topping if you can find it.
Homemade BBQ Sauce
Combine all of the ingredients into a medium saucepan, and mix well.
Bring to a boil, and reduce to a simmer for several minutes until the desired consistency is reached. *If you like your bbq sauce thicker, then cook it for a bit longer!
Add 3/4 cup to your shredded turkey and serve, and store the rest in the fridge.
Nutritional Information